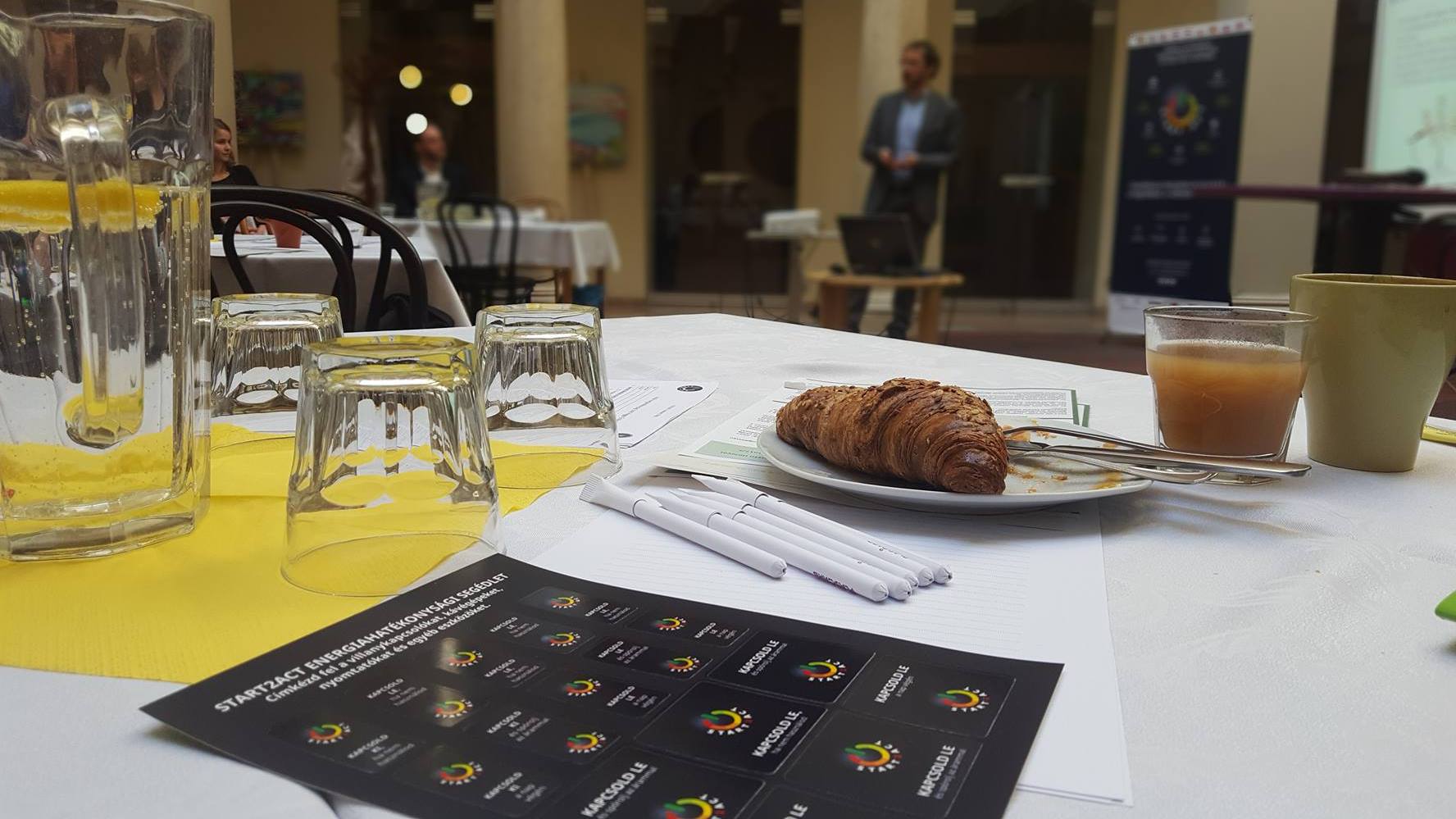 One of the key activities of START2ACT have been the Business Breakfasts which delivered quick, compact morning presentations covering easily accessible energy efficiency measures for young businesses in the eight participating START2ACT countries.

From Kingston, United Kingdom to Varna, Bulgaria, the Business Breakfasts were organised in 23 different cities, gathering over 400 participants who represented over 300 companies, universities and local authorities with diverse profiles such as IT, constructions, educational and social services or energy management. Fitting even into the tightest business schedules, the short breakfast briefings proved to be a highly successful format which allowed attendants to start the dayby gaining fresh insights for their businesses on:
how to overcome the most typical obstacles of being energy efficient,
green credentials,
smart technologies,
how to choose a lowcost office premise, and
how to reduce the carbon impacts of products and services
…all while enjoying a tasty selection of beverages and snacks.

Business Breakfast by GEONARDO on the 17th of May 2017

All of the presentations were followed by a Q&A session, where participants had the chance to inquire about topics according to their status and business type. As the company delegates ranged from CEOs to energy managers, the questions concerned different aspects of energy efficiency, touching on rather general topics such as heating and lighting solutions to more specialized information on energy efficient buildings.
At the end of each Breakfast, the floor was open for free networking, giving young SMEs and startups a much needed space for contact-making and exchange of views.
The Business Breakfast organised by START2ACT partner ENERO during the "Actions for Sustainable Energy Consumption" conference was among our most successful breakfasts, attracting as many as 131 participants during the two events held on the 25thof April and 18th of May.

Business Breakfast by ENERO on the 18th of May 2017 in Cluj-Napoca

Overall, the Business Breakfasts organised so far in our START2ACT countries received an overwhelmingly positive feedback which confirmed the importance of these and similar events. This has become not only evident through the detailed feedback forms collected after the events but also by facebook posts of some participants.
Today we have attended a conference about Energy Efficiency & Regional Business Support Initiatives for Small Business organised by the East Midlands Chamber together with Carbon Trust and Start2Act Project. It was a very helpful and instructive event for P.O.I.N.T.E.R.S. and Qube Systems. We have got in touch with several projects carried out by The University of Nottingham and University of Derby. We are looking forward to keeping growing efficiently and sustainably" (from the Business Breakfast by Carbon Trust on the 24th of February in Nottingham, UK – see more at http://www.start2act.eu/news/36/positive-feedback-for-start2act-business-breakfasts)
Energy efficiency is indeed a hot topic which draws the attention of many and helps them stay in the loop with the already widespread green office culture of major businesses around the world!
If you'd like to visit one of our upcoming Business Breakfasts, don't hesitate and apply:
19th of July, Poznan (Poland) by KAPE (start2act@kape.gov.pl)
21st of July, Sofia (Bulgaria) by SOFENA (start2act@sofena.com)
More Business Breakfasts will be organised by other partners of the consortium later this year!

The Business Breakfasts are one of our four main free energy efficiency support activities. In the upcoming months, we are going to start a new series of mentoring and training programmes for young SMEs and startups which will help them assess their energy consumption and develop an energy efficiency strategy tailored to their respective business realities under the close guidance of well-prepared START2ACT trainers. If you are a young SME or startup (less than 5 years old) based in one of our partner countries then you areeligible for our free-of-charge assistance!